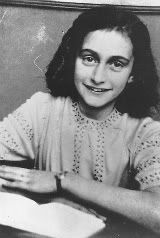 "Everyone has inside of him a piece of good news. The good news is that you don't know how great you can be! How much you can love! What you can accomplish! And what your potential is!"
--Anne Frank
The Washington State Holocaust Education Resource Center is sponsoring a writing contest for students this year. 2010 is particularly special because of an honor that the center has recently received.
As some of you may already know, in her diary, Anne Frank wrote about a tree growing outside her window. In order to preserve the legacy of the aging tree, saplings were grown. The Holocaust Center, in partnership with Seattle Parks and Recreation, was selected as the home for one of these rare saplings. Only 11 places in the United States will receive them. (Visit
this site
to learn more.)
Check out the information below to find out more about this contest and how you (or a student you know) can participate.
Jacob Friedman Holocaust Writing and Art Contest
Open to students in grades 5-12 in the Pacific Northwest (WA, OR, ID, AK)
Entries accepted now through April 2, 2010
Sponsored by the Washington State Holocaust Education Resource Center
http://www.wsherc.org/writingcontest/contest.aspx
This year's contest asks students to consider how their lives might be different if people were more respectful and tolerant of each other's differences.
Last year the Center received over 800 entries. The 2009 winners can be found on the Holocaust Center's website – www.wsherc.org. The Holocaust Center is a non-profit organization with a mission to support educators teaching about the Holocaust, genocide, and related lessons of stereotyping, and the difference one person can make.
(Photograph on this post courtesy of the Anne Frank Trust.)